SERVPRO Services List
4/24/2023 (Permalink)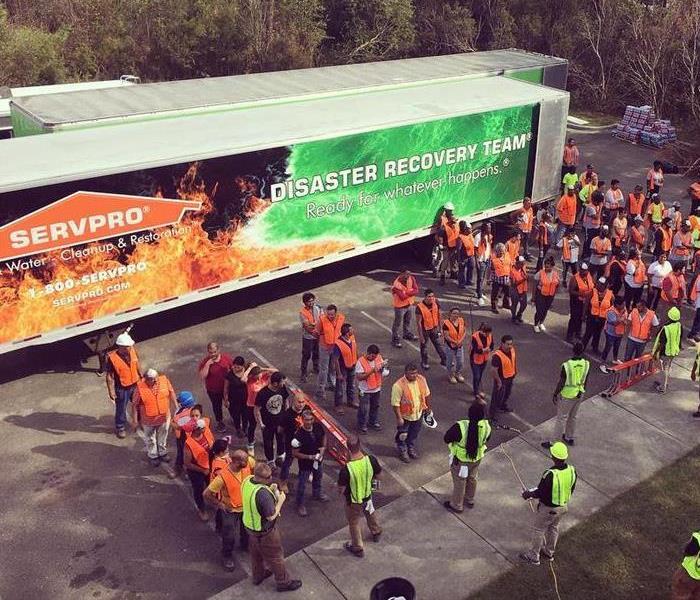 SERVPRO is a cleaning, restoration, and construction company. Call SERVPRO of Dallas Love anytime. We're Here to Help.
SERVPRO is a renowned damage company that offers top-of-the-line restoration services nationwide. As the most trusted brand in commercial restoration in the United States, we have honed our expertise in handling disasters with our 50-year experience.
Our services include
fire and water damage restoration
construction
mold remediation
biohazard cleanup and disinfection
Air Duct and HVAC cleaning
Deodorization
Commercial Services
textile sanitization using the advanced Esporta Wash System.
We make it "Like it never even happened."
Water Damage Restoration
Water damage restoration is a process that involves the removal of excess water and the repair of damage caused by various sources, including floods, leaks, or natural disasters. SERVPRO has perfected this process over 50 years, using specialized equipment and training to ensure water restoration is done to the highest standards.
SERVPRO's restoration process starts with assessing the damage, followed by water removal and drying of the affected areas using specialized equipment like dehumidifiers and air movers. Furthermore, we offer mold remediation services to prevent mold growth.
We understand the urgency of water damage restoration, so our team of experts is available 24/7 to provide emergency services. Our bespoke restoration plans are designed to suit your needs.
Fire Damage Restoration
Fire damage restoration is a specialized process focused on repairing and restoring properties affected by fire. SERVPRO recognizes the devastating impact fire damage can have on businesses and homeowners and is dedicated to helping them recover.
The comprehensive process involves the removal of debris, purification of air, drying, and thoroughly cleaning affected surfaces. It starts with an assessment to develop the best course of action, followed by a meticulously customized restoration plan.
Aside from the physical damage, lingering unpleasant odors often require attention. SERVPRO's fire damage restoration team has the equipment and techniques to remove such odors and fully restore the property.
Mold Remediation
Mold remediation is the process of identifying and removing mold from indoor environments. Mold, a fungus that thrives in damp, humid conditions, can present serious health issues when left unchecked. Mold growth can occur in various areas, including walls, floors, ceilings, and HVAC systems, and can quickly spread beyond control.
As a licensed Texas Mold Remediation Contractor, SERVPRO of Dallas Love offers expert mold removal services. Our process begins with locating and repairing the source of moisture that caused the mold to grow, followed by removing and cleaning the affected areas.
Our team adheres to strict standards and regulations the Environmental Protection Agency (EPA) sets in our mold remediation process.
SERVPRO also offers preventative measures to keep mold from returning. Our team can inspect and identify potential mold growth and offer solutions to help prevent it.
Construction
Our construction services offer comprehensive capabilities, including reconstruction, remodeling, and renovation.
Our approach to each project is customized and personalized, catering to your specific requirements and budget. Every property is unique, so we provide various construction services to meet your needs.
From minor repairs to major remodels and renovations, we provide everything necessary to restore or enhance your property. You can trust us to do the job right, installing new drywall or rebuilding an entire floor.
We offer ongoing support and guidance throughout the project to keep you informed at every step of the way. We strive to exceed your expectations and restore your property to its preloss condition.
Biohazard Cleaning and Disinfection
Disinfection is an essential process that eliminates harmful microorganisms from surfaces and objects, preventing disease spread. Successful disinfection is a prerequisite for re-occupancy of the affected area during water and fire damage restoration.
Involving specialized chemicals and equipment, disinfection effectively kills viruses, bacteria, and other pathogens in the air and surfaces. Disinfectant chemicals are selectively chosen based on the surface type and microorganism present.
Biohazard cleaning or remediation is the safe and effective cleaning and removal of biological and chemical contaminants. Biohazard contaminants include bodily fluids, blood, hazardous chemicals, and infectious diseases such as HIV, hepatitis, and COVID-19.
Biohazardous materials pose significant health risks to humans and require specialized equipment, training, and procedures during cleanup.
SERVPRO employs highly trained and fully equipped biohazard cleanup teams to restore even the most complex cleanup scenarios. Our specialized cleaning agents and equipment comprehensively decontaminate affected areas.
Our biohazard cleaning services apply to various scenarios, such as sewage backups, crime scene cleanups, meth lab cleanups, and hoarding situations.
HVAC and Air Duct Cleaning
HVAC and duct cleaning is critical to ensure optimal indoor air quality and improved energy efficiency in commercial properties. Regular cleaning is essential as dust, debris, and other contaminants can build up over time in air ducts and heating, ventilation, and air conditioning (HVAC) systems.
SERVPRO offers a comprehensive four-step process that includes a thorough inspection, rigorous cleaning and sanitization, and restoration of affected areas. Our team of certified technicians is equipped with specialized tools and training to minimize airborne particulates for cleaner and healthier air quality.
Commercial Services
Our range of commercial services provides tailored cleaning and restoration solutions for commercial and industrial clients. We understand that, for businesses, offering a safe and secure facility is vital, and as such, we offer a range of specialized services to address these unique requirements.
From disinfection and hazardous waste removal to HVAC/duct cleaning and fire damage repair, our comprehensive suite of services provides everything necessary to meet your commercial facility's needs. Our emergency response and restoration service is also available to business clients seeking immediate assistance.
We provide commercial services to various industries, including healthcare, hospitality, education, manufacturing, and more.
Time lost due to cleaning and restoration challenges can result in considerable financial losses. That's why we offer 24/7 emergency response services to our commercial clients. We aim to help your facility get back up and running as quickly and safely as possible, minimizing downtime and reducing the negative impact on your business.
Carpet and Upholstery Cleaning
With time, carpets and upholstery gather dirt, dust, allergens, and stubborn stains that cannot be removed through standard cleaning or vacuuming techniques. Such debris can penetrate the fibers, causing damage, wear and tear, and a shortened lifespan for carpets or furniture.
At SERVPRO, we provide premium carpet and upholstery cleaning services to safeguard your investment and maintain the pristine appearance of your home or business. Our professional technicians leverage the latest equipment and protocols to clean and sanitize carpets and upholstery, removing dirt, dust, and allergens, among other particles, embedded within the fibers.
Our four-step carpet cleaning process comprises inspection, pre-treatment, cleaning, and re-inspection. During the inspection phase, we meticulously evaluate the condition of your carpets and upholstery and identify areas that require particular focus. We then pre-treat any stains or high-traffic areas to guarantee maximum effectiveness during cleaning.
Next, we use a combination of hot water extraction and dry cleaning methods to remove dirt, dust, and other composites. Our hot water extraction technique uses pressurized water and cleaning agents to penetrate deep into the fibers before extracting them with a powerful vacuum. Alternatively, our dry cleaning method uses low-moisture foam and specialized equipment to clean carpets and upholstery without excessive water, lowering exposure to the risk of mold growth or water damage.
After cleaning, our technicians thoroughly inspect your carpets and upholstery to ensure every part is clean. Attention to detail is integral to our service, and we strive for total customer satisfaction.
Odor Removal
Unpleasant odors can stem from numerous sources, including pets, mold, cigarette smoke, and cooking. Despite regular cleaning and upkeep, these smells can be resilient and hard to eradicate.
At SERVPRO, our professional odor removal and deodorization services offer reliable solutions to eliminate odors at their source. Our competent technicians leverage their expertise and advanced equipment to remove odors effectively and efficiently, leaving your facility smelling fresh and clean.
Our odor removal process involves a systematic identification of the root cause of the odor. We deploy specialized equipment, such as moisture detectors and thermal foggers, to locate the source of the odor and assess the extent of the issue. Upon identification, we craft a customized solution to eradicate the odor.
Our odor removal techniques include air scrubbing, ozone treatment, and thermal fogging. Air scrubbing deploys air filters to sanitize the air by removing odor-causing particles. Ozone treatment uses high levels of ozone to oxidize organic compounds and eliminate odors, while thermal fogging employs a heated mist that infiltrates surfaces and neutralizes odors from within.
We further deodorize the environment by eliminating the odor using our specialized deodorizing agents. These safe and environmentally-friendly agents neutralize residual odors, ensuring a fresh scent that compliments and enhances the space's ambiance.
Textile Sanitization with the Esporta Wash System
Textile sanitization is crucial to eliminating harmful microorganisms from fabrics and textiles. SERVPRO of Dallas Love offers professional textile sanitization services using the highly-effective and efficient Esporta Wash System. This revolutionary washing technology is designed to remove bacteria, mold, and viruses from fabric and textiles, restoring them to a hygienic and sanitized state.
The patented hydraulic process of the Esporta Wash System uses specialized detergents and high-pressure water to penetrate deep into the fibers of textiles, making it more effective than traditional washing methods. Our versatile system can clean various fabrics and textiles, making it an ideal solution for the healthcare, hospitality, and sports industries.
Using the Esporta Wash System, we can restore textiles that otherwise would have to be replaced. Not only does this save money, but it also supports sustainable practices by reducing waste. Additionally, our detergents are non-toxic and biodegradable, making our textile sanitization process environmentally friendly.
The Esporta Wash System has been independently tested and proven effective at eliminating up to 99% of textile contaminants, making it one of the most influential textile sanitization technologies available today. Our technicians conduct final inspections to ensure the sanitization process is successful and the textiles are free of harmful microorganisms.
Our textile sanitization process eliminates unwanted odors, leaving your fabrics and textiles fresh and clean.
SERVPRO is Available 24/7
SERVPRO offers round-the-clock emergency services, available every day of the year, including holidays. Our immediate response time aims to reduce any disaster's damage and interruption.
SERVPRO's Advantage Over Other Restoration Companies
SERVPRO stands out from other restoration companies.
With over 50 years of experience, we accept all insurance claims for 100% of the amount, including construction, and manage the country's largest restoration jobs.
Our team of highly certified professionals, a multitude of advanced equipment, and access to proprietary chemicals and resources validate our position as industry leaders.
We take employee training seriously, and SERVPRO University is the leading program in the damage restoration industry.
SERVPRO franchises, including SERVPRO of Dallas Love, are independently owned and operated.
SERVPRO provides unmatched service and accepts all insurance claims, making the restoration process stress-free for our clients. With decades of experience working closely with insurance adjusters, we guide our clients to receive the necessary compensation to restore their damaged properties. Our comprehensive restoration process includes construction services. SERVPRO's extensive insurance industry knowledge enables our team to provide a smooth customer experience, making SERVPRO a preferred choice for many insurance adjusters.
SERVPRO has National Response Teams, which are exclusively comprised of a select number of franchisees to address large-scale restoration projects in the country. SERVPRO of Dallas Love is a part of this exclusive group, committed to taking up any response challenge and traveling anywhere nationwide. Our team, equipped with a trained meteorologist, responds to significant hurricanes, derechos, wildfires, and other natural disasters. We travel each year to help communities recover and rebuild.
The professionals at SERVPRO of Dallas Love are subjected to rigorous training and are provided with sufficient backup whenever necessary. Our certified technician staff can be increased tenfold in hours to handle large-scale disaster events. With our skilled team, we bring thousands of pieces of equipment, including the largest-scale equipment in the country. SERVPRO stands out due to its high-capacity resources daily, with no other restoration company coming close.
SERVPRO University's advanced training program is the most comprehensive in the damage restoration industry. Our entire team is trained at SERVPRO University, followed by individual training and certification by IICRC.
SERVPRO Accepts and Helps Process Insurance Claims
SERVPRO of Dallas Love gladly accepts insurance claims to facilitate damage restoration services for our clients. We maintain regular communication with insurance companies and adjusters to process claims expediently. Our clients can rely on the expertise of a dedicated Project Coordinator who guides them through each restoration process step, including insurance claims. With over 40 years of experience in the industry, we have successfully processed thousands of insurance claims.
SERVPRO Technician Training
SERVPRO has a highly skilled group of restoration experts professionally trained through our industry-leading program, SERVPRO University. The training program, covering every aspect of our business, from water and damage restoration to safety, customer service, and communication, is designed to ensure that our team is equipped to handle any disaster.
Our technicians are also certified in mold remediation by the Institute of Inspection Cleaning and Restoration Certification (IICRC), a reputable independent body. We use state-of-the-art equipment and proprietary chemicals formulated explicitly for disaster restoration to achieve maximum efficiency and effectiveness in our cleanup and restoration operations.
Additionally, we prioritize communication and customer service skills, training our staff to articulate and empathize with our clients and insurance adjusters.
SERVPRO of Dallas Love is a licensed mold remediation contractor in Texas.
SERVPRO Construction
SERVPRO provides comprehensive construction services, including the option to be included as part of your restoration insurance claim or as a standalone.
SERVPRO of Dallas Love
SERVPRO of Dallas Love services Dallas and all surrounding communities. Our office is directly in front of Dallas Love Field airport, and we can arrive anywhere in Dallas in just a few minutes. Call us any time for any cleaning, restoration, or construction need.
We're Here to Help.