Five Easy Steps to Concrete Restoration After a Fire
3/15/2022 (Permalink)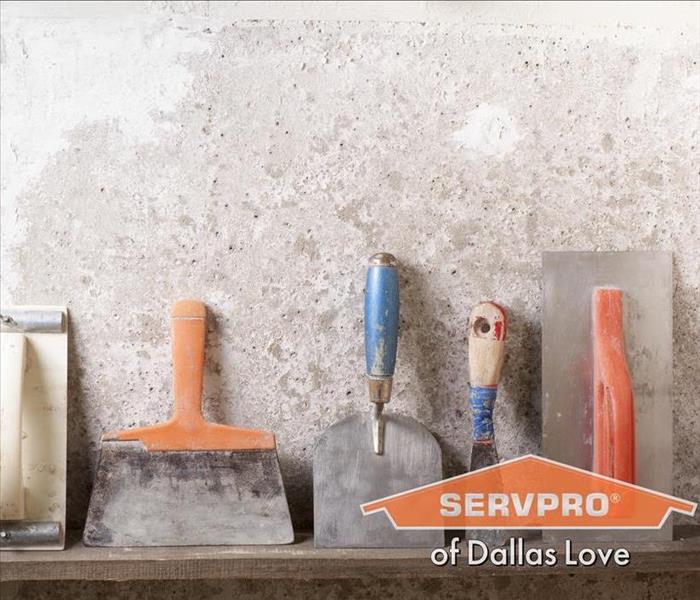 Contact SERVPRO of Dallas Love today to learn about our Dallas fire damage restoration services in the local area.
Fire can have a devastating effect on concrete. Concrete restoration after a fire is a vital step to ensure permanent damage to concrete doesn't affect the strength of the building's structure. Typically, professional fire and water damage restorations take five steps to mitigate fire damage on concrete.
Concrete is the most commonly used material in modern tunnels and structural engineering structures. In terms of fire behavior, concrete is non-flammable, has low thermal conductivity, and has excellent thermal insulation properties.
These qualities can help protect parts of the structure from fire. However, the concrete's strength, rigidity, and the surface will be affected at extremely high temperatures. This can decrease the residual strength and durability of the structure.
Concrete Strength Reduction from Fire
Exposure Temperature
Concrete Color
Strength Reduction
32°F to 570°F
Unchanged
Unchanged
570°F to 1,100°F
Pink or Red
0 to 55%
1,100°F to 1,650°F
Gray
55 to 85%
1,650°F to 2,200°F
Buff
85 to 100%
Greater than 2,200°F
Yellow
Complete decomposition of the cement paste where calcium hydroxide converts to calcium carbonate
After a fire incident, it is crucial to carry out an initial inspection to determine whether structural repairs are necessary. Due to the excellent insulation properties of concrete, even severely damaged structures can often be repaired. In addition, remedial repairs may include aesthetic restoration to replace the damaged structure.
Five Steps to Restore Concrete After a Fire
Concrete restoration after a fire is vital to ensure it's safe to live in or occupy the building. SERVPRO tests fire-damaged concrete to assess the best approach to restoring it. Here are some of the steps we may take.
1. Cleaning and cosmetic enhancement
The first step to restoring concrete after a fire is to remove any smoke and soot particles from the surfaces. This can be done using a sandblasting technique to loosen soot around the affected area. It is vital to remove all traces of smoke and soot before moving to the next step.
2. Using mortar or resins to repair concrete surfaces
Suppose there are surface cracks in the damaged concrete. In that case, it may be possible to restore it by applying glue, surface-bonding agent, or resin to fill the gaps and prevent moisture from getting into the concrete structure.
3. Using sprayed concrete or flowable concrete to repair and strengthen the concrete structure
Sprayed concrete is a material with rapid hardening qualities to stabilize and repair fire-damaged concrete. This can be applied to spalled concrete to fill cavities and restore a smooth concrete finish.
4. Reinforcing steel or fiber-reinforced polymers used to strengthen concrete (FRP)
In severe fire damage, it may be possible to save the structure by using strengthened steel structures. This can be done by either creating beam-column joints between the existing beam and existing column or increasing the cross-section area and welding additional angle shape profiles.
5. Complete replacement of specific components.
Some concrete components become so weak after a fire that restoration of the original material is impossible. Therefore, unrepairable concrete must be removed and replaced with a new concrete structure to complete restoration.
SERVPRO of Dallas Love is Here to Help
In many cases, concrete damaged in a fire is repairable. Contact SERVPRO of Dallas Love today to learn about our Dallas fire damage restoration services in the local area.
We're available 24/7 at (214) 272-7600.