Eliminate the Mess in Your Office with Proper Cleanup
11/19/2021 (Permalink)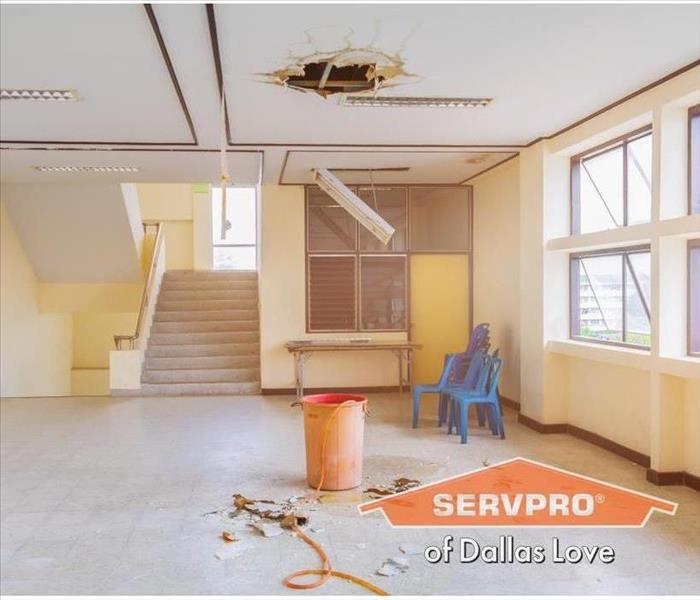 SERVPRO of Dallas Love is prepared 24/7 to help with any restoration or cleaning services your office needs.
You never know when a disaster will strike your commercial property. And you may not even know how common they are. Fires, for example, were responded to in the US by fire departments every 23 seconds.
With that in mind, you need to be prepared for when the next disaster strikes. More importantly, you need to hire the best service around to clean the aftermath.
When mold, water, and even fires damage your office, you can trust SERVPRO of Dallas Love to restore your building to its former glory.
Continue reading below to learn more about our services.
Dallas Mold Remediation
Mold is a residue that non-professionals shouldn't tackle. That's why we encourage you to call SERVPRO for our Dallas mold remediation services.
SERVPRO will assess the mold in your property and remove the spores accordingly with our state-of-the-art technology. After we remove the mold in your business, you can expect a clean atmosphere again.
Dallas Water Damage Restoration
Water can be a deadly force. If you don't detect leaks early, they can slowly erode areas of your property over time. But don't worry, you can trust the experts of SERVPRO for our Dallas water damage restoration.
After the inspection is complete, our staff will perform the necessary water extraction, and make sure your interiors are dry.
Dallas Fire Damage Restoration
Fire is perhaps the most destructive element when it comes to property damage. It can destroy just about anything within a matter of seconds. Moreover, it can leave behind a nasty mess of soot and smoke damage.
When you need help removing soot from your walls, floors, and even textiles, SERVPRO will be ready to help. We've assisted many fire-damaged businesses and feel confident we can help you, too.
Call the SERVPRO Experts Today
SERVPRO of Dallas Love will always be ready to assist you with your property damage endeavors.
When you need help, call us at (214) 272-7600 or visit our contact page.